What's New
CHI 2005 is over; join us at CHI2006 in Montreal, 22-27 April 2006.

Best Paper Awards announced.


Have a question? Please send your inquiries to chi2005-help@acm.org.


Key Dates

Deadlines

2 April 2005

On-site Registration

2-4 April 2005

Pre-Conference Program

5-7 April 2005

Technical Program

Spotlight: Interactivity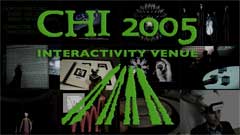 Be sure to visit the all-new Interactivity Venue at CHI, where authors will not only present some of the latest and greatest research in tangible, multimodal, collaborative, and multimedia interfaces, but also set up hands-on installations for you to try yourself! Take a look at this exclusive sneak preview for a taste of what will be happening in the Interactivity Chamber.

If you have bandwidth to spare, view one of these previews:
CHI 2005 Interactivity Venue 5.3MB
CHI 2005 Interactivitiy Venue 11.6MB